August has been another month of continuous water with a number of good spates, one of which reached 9ft at Colmonell on Monday 27th.  The whole month has seen water levels, which allows fish to run the river as they please.  This results in no build up of fish in the tidal reaches and is indeed reflecting in the catches in the lower river.  For all the water, angling pressure has been very light, except for the days immediately following a spate.   Anglers seem to be reluctant to buy day tickets as the water gets down to 2ft.  The exception to this is the syndicate members who keep plugging away and have been rewarded for their efforts with some exceptional fish, provided they scale down to suit conditions.
Rods at Ballantrae Bridge have had to work hard for their fish.  Owner Robert Dalrymple fished on good water with his two sons with only Alistair being successful with an 8lb fish.  Alistair now lives and works in Texas U.S.A. and follows his home river's fortunes on the Stinchar website. The tenants on the final week of the month finished with 11 fish, mostly grilse.
Balnowlart has fished away steady with no reports of any bonanzas.  Kirkholm has struggled a bit this month with the only successes being when the river is high.  Owner William Marshall's nephew 10 yr old Ryan Talbot caught his first ever salmon here this month, a lovely fish of 10lb Well Done Ryan.
Knockdolian has done well despite a lack of anglers.  Tuesday the 7th was the best day of the month with 17 landed, including one of 17lb from the Blackstone caught by Lord Richard.  J.Clavering's party had four best being 13lbs.  Brian Wilson and Tony Coughlan had 7 from Twins and Bankweil.  John Hall hooked 5 on MacCallums that day and lost every single one of them.  Len Holowko had one in Bankweil.  Jimmy Hyslop 7lb – Sallochan.  Ross McCulloch had two from bottom pools best being 12lbs he also had 2 from the Scaur best 16lb and hooked a fish in the Scaur which left the pool and snapped him.  I accompanied Stuart Lang to the Scaur on Saturday 25th and witnessed the same thing happen to him.  He hooked a very large fish near the tail and after a short while it made to go out the tail of the pool and when Stuart tried to turn it, it also broke him.  Same fish?  Who knows!!  I had one from Dalni 11lbs, one from Sallochan 6lbs, 7 lb from Scaur and I also landed a fish from the tail of Bankweil on a  6ft water using a wet cell 2 and a 2.5 inch Red Tube. For those that know it, the big rock was completely covered.
Colmonell Club water has had a few successful rods being – Sandy and Alexander Wilson, Robert McIlwraith, Stuart Donnelly and George Falls.
Kirkhill has fished well with a number of quality fished landed, including one of around 19lbs for Tom Wallace.  Barry White on his first visit landed a nice grilse of 5lbs.  Owen Samson hooked 6 on one day, landing 4 of them.  Gilbert himself also had 4 fish. Graham Jones had a nice grilse on a Red Devil.  On Bardrochat from the Bridge Pool, John Paton had an 8lb fish and Dougie Dunsmuir one of 6lb.  On Dalreoch, Patrick Kensell had a 12lb fish from Hare's Took.  J Freeman 4lb from Dangart.  Gordon MacDairmid from the Ayrshire River Trust had a 10lb out of the Craig.  Also on the Craig Glyn Phillips landed a beauty of 14lb. Brian Robb and Nathan Calderwood both had grilse of 5lb from Dangart, Ian McIlwraith a 13lb fish from the Pot. Laurie Taylor had a 6lb grilse from the Craig.   Up on Almont Johnny Gaff had 4 and 1 for Billy Morrison all fish in the 6-7lb class. Colin Hyslop had an 8lb fish from the Rock Pool.
Hallowchapel is doing well with best for the month an 18lb fish for Mr Cameron and his son also getting one of 12lb.  On the Wee Stinchar Rodger Pirie is still doing the business with another 4 fish on his syndicate rod, including fish of 15lb and 12lb.  Another member of this syndicate, young Harry Sheddon caught his first salmon on the fly, a cock fish of 20 and three quarter pounds.  This is a magnificent fish for the Stinchar and not many anglers can lay claim to such a catch in their lifetime.  Well Done Harry!!
On Minuntion catches have slowed up a bit, John Scobie had one of 10lb and another of 14lbs Paul Parker landed a good fish around 15lbs and another of 5lb, a grilse for Eddy Smith and the keeper Douglas Faulds took his rod with him when he went to feed his birds and had a cast at the bottom of the beat and landed a fish of 14lbs much to the disgust of anglers that had been fishing all day with nothing to show for it.
As I write on September 1st autumn is certainly evident already with the trees changing and a few leaves already falling.  This is the time the visiting anglers arrive in numbers, I just hope we haven't used up our quota of water for the year, as I am afraid this river does not last long before needing another downpour.  Given water September can be a fantastic month to fish the Stinchar.  Time will tell.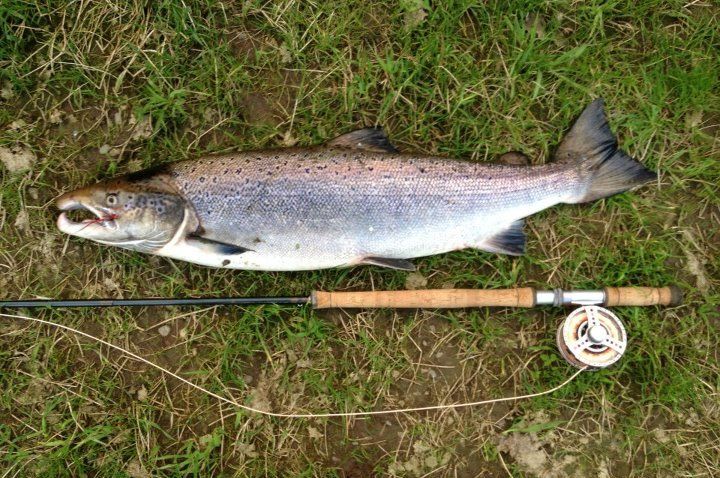 Harry Shedden's 20lb fish from Laggansarroch